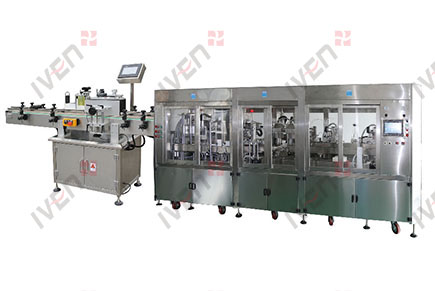 Integrated Blood Collection Tube Production Line (after labeling)
As the largest Integrated Blood Collection Tube Production Line (after labeling) manufacturer in china, Shanghai IVEN Pharmatech sales quality Integrated Blood Collection Tube Production Line (after labeling) to customers all over the world.
Brief introduction & Advantage
Tail-labeling machine connected online, non-label tube to be auto detected by world leading image technology after stoppering & capping and vacuuming (including rift of stopper or cap or glass tube, foreign matter inside tube, no additive, less additive and etc.). Conform tube move to labeling machine, non-conform tube to be rejected. Manual inspection-free technology is world leading.
1. Save labor cost:
Other company's production line need large manual inspection for each tube, include label, dosing, foreign matters inside tube and etc. Our line using world leading image technology to reject non-conform tube (include rift of stopper or cap or glass tube, foreign matter inside tube, no additive, less additive and etc.), reach 100% accuracy rate.

2. Reduce secondary pollution. Decrease tube multiple exposure, better guarantee tube aseptic. Glass tube after high temp sterilizing.
(PET tube produced in Class 100,000 clean room workshop), worker only contact tube one time when loading tubes into auto loading machine, ensure tube cleanness during production in Class 10,000 clean room workshop.

3. Testing qualified products for automatic labeling, ensure packaging sequence according to Barcode Numbers.
Packaging sequence according to Barcode Numbers can be up to export standard and usage requirements of large hospitals.

4. Auto inspection device rejects labeled tube if no label.
Slanting label, poor adhesive label and etc., ensure labeled tube and finished tube with pass rate 100%.

5. Labeling speed matches the auto assembly line speed well to ensure whole line production capacity get 18000~24000pcs/h

6. The whole line only needs 3 skilled workers.
Only manual tube loading at the very beginning, online image and labeling inspection rejects non-conform tubes automatically to ensure 100% pass rate. Save at least 15 workers to get production capacity of 18000~24000pcs/h.
Production Procedures

Schematic Diagram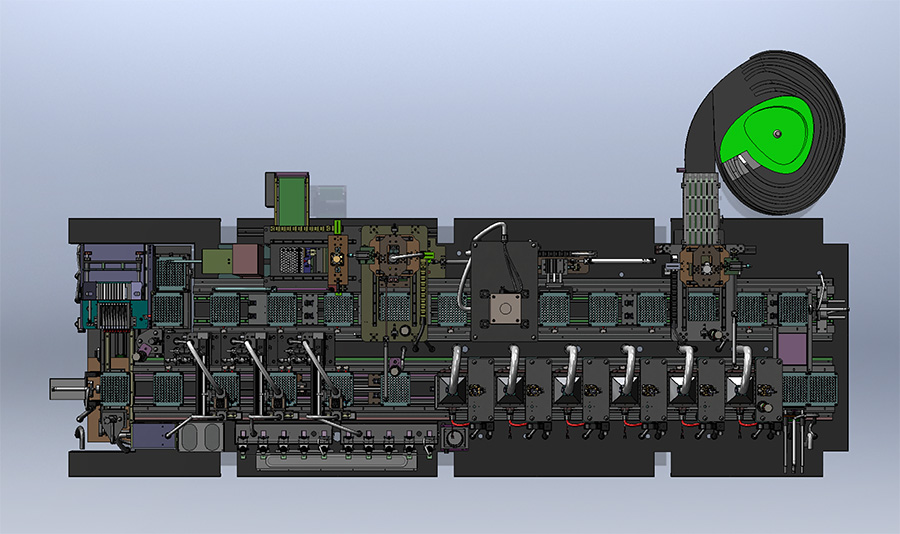 Aseptic Environment: equipped with clean laminar flow hood and adopt with high-powered fan and HEPA, it can be operated in long term under high static pressure and keep low noise. The space cleanness can up to class 10,000 (can be optional), which is the exclusive technology in China.

Tube loading: adopting with automatic tube loading technology, loading the tube into clamps automatically with detector for no tube or inverse direction tube. The machine apply for any kind of label tubes and solve the defect of the avo label broken of traditional tube loading machine from other manufacturers.

Atomization Dosing: The machine adopts with a set of 5 FMI precision ceramic metering pump and 1 set of five conjoined of micro - ceramic injection pump that can dose separately for biochemical tube and anticoagulant tube (EDTA salts, heparin salt); Another set of metering pump is dosing for sodium citrate tubes. Dosing volume controlled by PLC touch screen(see parameter), the error rate is ≦ 5%, and detect for no dosing tubes during the dosing process. Compared with other companies' machine rely on stable air supply for dosing, our technology of dosing volume will not be influenced by any factors. 3 sets of dosing system meet all kinds of blood collection tubes production, that is the exclusive and advanced technology in China.

Drying: Adopting with six sets of dust-free PTC heating dryer to make the inner of products with zero pollution so as to improve the drying effect and production efficiency. Compared with traditional heating method, our machine solves the problem of temperature instability and pollution.
Online Stoppering & Capping: finish the combination of stopper & cap online quickly and efficiently (apply for both type: upward and downward), and avoid the nonuniform vacuum degree when dose the tubes after the combination of stopper and cap and it may cause the stopper not seal well against tube. Detect for cap and rubber stopper and avoid the possibility of no stopper or no cap.




Main technical parameters
| | |
| --- | --- |
| Tube size | Diameter 13mm (length 75mm or 100mm), diameter 16mm(length 100mm) |
| Stopper & cap | According to the sample provided, or we provide standard size |
| Production capacity | 18,000 ~ 24,000 pcs/hour |
| Stoppering & capping pass rate | ≥99% |
| Vacuuming stopper-cap pass rate | ≥99% |
| Power supply | 380V/50HZ |
| Power | 12KW |
| Atomization dosing volume | Error≤1%, 10ul/time, 20ul/time, 30ul/time, 40ul/time, 200ul/time, 300ul/time, 400ul/time, 500ul/time, 600ul/time |
| Air consumption: clean compressed air pressure | 0.6 ~ 0.8Mpa, clean compressed air consumption: 300 L/ min |