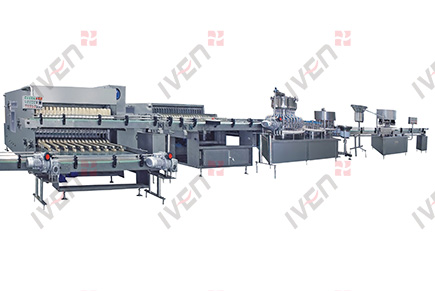 Glass Bottle IV Solution Production Line
Shanghai IVEN Pharmatech is one of the toppest manufacturers of IV Fluid Bottle Filling Machine,IV Bottle LVP,PP Bottle IV Fluids Filling in China.During these years of exporting , Shanghai IVEN Pharmatech now has rich experience in the worldwide markets

Brief Introduction
Glass bottle IV solution production line is mainly used for IV solution glass bottle of 50ml~500ml cleaning, filling, stoppering, capping etc. It can be used for the production of glucose, antibiotic, amino acid, fat emulsion, nutrient solution and biological agents and other liquids etc.
Main Features
1. Bottle washing machine adopts new design, rough cleaning adopts the same direction for bottle input and output, saving operators and machine space.
2. Bottle output from rough and fine washing machine adopts twice bottle receiving, avoiding bottle reversal and broken.
3. Bottle washing machine uses intermittent rinsing, avoiding cross contamination caused by continuous rinsing.
4. Bottle input adopts the combination of bottle hook and guide plate, making the bottle input reliable and no bottle reversal.
5. Washing water can be recycled and filtered, reduce water consumption.
6. Filling adopts time and constant current theory; filling quantity can be adjusted by computer with high accuracy.
7. No bottle no filling, can realize CIP/SIP.
Technical Parameters
Main Items
Main Contents
Model
BPY50/500-120
BPY50/500-200
BPY50/500-300
BPY50/500-600
Applied Bottle Size
50ml, 100ml, 250ml, 500ml
Production Capacity
80-120 Bottle/min
120-200 Bottle/min
200-300 Bottle/min
300-600 Bottle/min
Electric Capacity
35KW
37KW
45KW
55KW
Compressed Air Consumption
4³/h (0.6MPa)
5³/h (0.6MPa)
6³/h (0.6MPa)
7³/h (0.6MPa)
Water Consumption
Tap water: 200ml/bottle Purified water: 80ml/bottle
Injection water: 120ml/bottle 0.2MPa
Overall Size(mm)
17800×6000×2300
19000×6000×2300
24000×7000×2300
24000×7000×2300