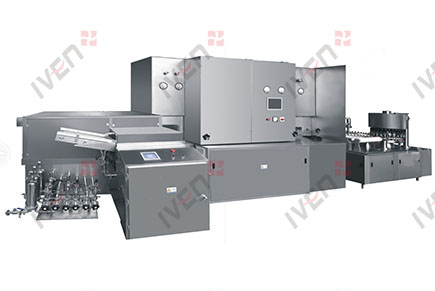 Syrup/Oral Liquid Production Line
Shanghai IVEN Pharmatech is one of the toppest Syrup/Oral Liquid Production Line in China.During these years of exporting , Shanghai IVEN Pharmatech now has rich experience in the worldwide markets
Main usage
1. Production line made up of CLQ ultrasonic washing ,RSM drying &sterilizing machine,DGZ filling & capping machine
2.Can complete following functions of ultrasonic washing ,flushing, (air charging, drying& sterilizing) ,filling and capping /screwing.
3. Suitable for oral liquid and other other small dose solution , and with a labeling machine consisting an ideal production line.

Characteristics
1. Adopts advanced ultrasonic washing ,alternating washing with independent multiple nozzle washing with water,air separately and quartz tube ultraviolet hot radiation sterilizing with high temperature,advanced technology of multiple nozzle filling and sealing .
2. Compact structure,small occupying area.
3.Control system adopts photoelectric technology and PLC with color touch LCD screen , high automation,few operator.
4.Integrate machine (SQGF ) one machine can wash ,fill and screw bottle in one machine , reduce investment and production cost.
5. Universal parts ,few specification parts ,easy to exchange .
Main technical parameter
Model
Production line
Suitable size
Production capacity
Power
Overall dimension
BXKF5/25
CLQ60
5-25ml
18000pcs/h
45Kw
9000*2000*2100(mm)
RSM480/18
DGZ12
SQGF 18/6
SQGF 18/6
50-500ml
7200pcs/h
3.2kw
4800*2038*2400(mm)
XGJ50/8
LQJ50
50-250ml
6000pcs/h
9.5Kw
5500*2200*2100(mm
GXJ8/8